The Community Group Visit The Food For Thought Charity
The Community Group Visit The Food For Thought Charity
12 July 2019 (by Marie Rome (mrome))
Today, the children visited The Food For Thought Charity and had their lunch cooked for them.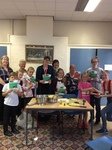 Food For Thought Darlington is a group of volunteers who intercept surplus food from supermarkets and other local businesses and cook with it. They make meals and serve them through pop-up cafes.
Today, the children ate a lovely lunch prepared by the volunteers and then the children helped prepare food and set up the pop-up café and food bank.