New Mobile App
New Mobile App
15 May 2019 (by kpavey)
As part of the school's website service, we have added an App to help communication between school and home.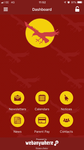 The App 'School Jotter' can be downloaded from Apple or Android App Stores (sorry it doesn't work on Windows Phones).
Once you have downloaded the App, you can search for our school using the Search facility. Once you have clicked on our school it will take you to our 'Dashboard'.
The Dashboard has 6 direct links to the Newsletter, Calendar, Notices, News, ParentPay and Contacts.
The News section will be updated from time to time with reports about events that have happened in school.
The Notices section will give information about things that will be happening in the future.
The Newsletter will go straight to this App each Friday as well as being sent out via email. In the Summer we will delete the email Subscriptions as there are lots of unused emails on this list. If you want to continue having the newsletter emailed, please sign up for this service again in September.
The Calendar mirrors the one on the Website and you can link it directly into your own calendar.
The ParentPay link takes you directly to that website.
You can set up notifications too.
Anyone can sign up to the App so spread the word to all family and friends who are interested.
If you have any comments or suggestions, please use the email address via the Contacts link.
All this remains accessible from the school website and if you want a paper copy of the Newsletter, that can also be arranged.
Share this: